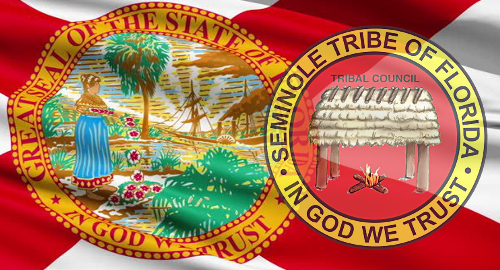 Florida legislators have tweaked their plans to revamp the state's gambling market, although it remains to be seen whether the changes will fly with the Seminole Tribe.
On Friday, Florida state senators filed a major amendment to the gambling bill they filed late last month. Among the most significant changes is a willingness to accept a new 20-year gaming compact with the Seminoles, which was part of the rival bill introduced by the state House of Representatives last month.
However, the amended Senate bill retains the clause allowing the state's pari-mutuel cardrooms to continue to offer so-called 'designated player' games, which the Seminoles insist violate their exclusivity on house-banked card games.
To placate the tribe, the new Senate bill would allow the Seminoles to add exclusive rights to roulette and craps games at their six gaming venues. The Senate is also now on board with the House plan to prohibit bars from offering so-called 'pre-reveal' machines, which a Tallahassee court has already declared to be illegal slot machines.
The Senate's new plan will be discussed on Monday at a meeting of the Appropriations Subcommittee on Finance and Tax. There will undoubtedly be significant horse trading and flurries of further amendments before the current legislative session expires next month.
Florida doesn't have the best track record in advancing gambling legislation, but lawmakers have extra incentive to get things done this time. In November, Florida voters will face a ballot question asking them whether to amend the state constitution to require future gambling expansion plans to seek approval via statewide referendums, which would effectively render most (if not all) gambling expansion plans dead in the water.
This urgency was underscored last week when a survey of Florida voters indicated there was 76% support for approving the constitutional amendment. In other words, Florida will either revise its gambling market before the end of March, or the market will be as carbon-frozen as Han Solo at the end of The Empire Strikes Back.