Home to swamp tours, refineries and petrochemical plants, not to mention the occasional alligator, Lake Charles isn't often mistaken for Las Vegas.
But the Louisiana city's becoming a bright spot among recovering U.S. gambling destinations, with its three bustling casinos — the newest of which of has seven restaurants, five bars, a beach, a marina with deep-water yacht slips and a pool that's open 'til 2:30 a.m.
"It's very Vegas," said Brandon Gresham, a 32-year-old Houston hair salon owner who has made the two-hour drive to the resort several times this year. "Everything's shiny."
Eight months old, the Golden Nugget Hotel & Casino is attracting so many visitors it's giving the competition a boost. Regulators credit the Nugget with helping lift gambling revenue at what the state calls riverboat casinos by 19.3 percent to $179 million in May, making it the best month since they were legalized in 1991.
The Nugget, built for $700 million, has "far surpassed our expectations," said Ronnie Jones, chairman of the Louisiana Gaming Control Board. "The market's on fire."
Gambling's on an upswing across the U.S., a turnaround after a casino glut and a falloff in betting forced closures of half a dozen properties and several bankruptcies over the past year, including of Caesars Entertainment Corp.'s largest division. Lake Charles and the Nugget, part of a chain owned by Houston billionaire Tilman Fertitta, could stumble if fickle gamblers retrench again — or next-door Texas makes good on threats to sanction casinos — but for now it's an example for companies like MGM Resorts International.
Fertitta's Recipe
"They have proven in Lake Charles that you can grow the market, if you build a product of substantial value and make it attractive," said William Hornbuckle, president of MGM Resorts, which competes with the Nugget in Vegas and Biloxi, Mississippi.
Fertitta said the secret's in his recipe for a regional casino, what he described as a first-class product for the everyman. "You don't have to go to Vegas anymore," said Fertitta, 58, whose net worth Forbes magazine estimates is $2.7 billion. "It's that nice."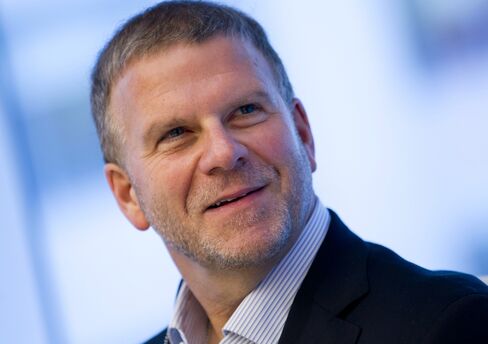 The marble-topped check-in desk is equipped with built-in iPads, and the Blue Martini bar has 42 versions of the drink. Boutiques sell Breitling watches, Nanette Lepore fashions and handmade gourmet truffles. But it's not all swank.
There's an all-you-can-eat buffet, of course, and RV parking. Non-hotel guests can buy a day-pass to the pool — complete with waterfall, slides, lazy river, swim-up bar and mid-water daybeds — for $30.
Claim Jumper
"Tilman's doing something really interesting out there," said Matt Sodl, an investment banker at Innovation Capital in Los Angeles. "There's no regional casino operator that is close to doing what he has done."
Fertitta has a knack for knowing what the average American with some disposal income wants. He made his first fortune with Landry's Inc., building two Houston-area restaurants into a global chain. Brands include the Rainforest Cafe and Bubba Gump Shrimp Co., places that provide a little atmosphere along with their crab cakes and Macadamia nut Mahi Mahi. Vic & Anthony's Steakhouse and the Claim Jumper are among the Landry brands in the Lake Charles Nugget.
Normally a new entrant to a gaming market is a negative for veterans, but this one has been good to Pinnacle Entertainment Inc.'s L'Auberge, which is next door, and the Isle of Capri Casino Inc. property a few miles away. Jones, the gaming board head, said they're benefiting from the Nugget, which has been attracting an average 353,000 visitors a month, according to the casino, or about five times the local population.
Gambler's Boardwalk
People tend to drop by more than one when they're in town, and Fertitta made that easy for the L'Auberge; a boardwalk connects the two (key for gamblers who like to relocate if their luck's running cold). "We're seeing a younger demographic," L'Auberge General Manager Keith Henson said. His casino-hotel's sales were up 0.4 percent in the first five months of the year, while Isle of Capri's were 2.9 percent higher.
Of course, that's also due to the national comeback, spurred by rising home and stock prices and lower unemployment. In 20 states tracked by Well Fargo & Co., gambling revenue rose 4.9 percent in May, after falling 1.3 percent in 2014. Moody's, which last June lowered its industry outlook to negative, this month raised it back to stable, citing in part growth from new properties such as the Nugget. The recovery's precarious, according to Moody's, because gambling is tied to mercurial discretionary income.
Fertitta bought the 69-year-old Golden Nugget in Vegas and its sister in Laughlin, Nevada, in 2005. He now has five locations, after acquiring the Trump Marina Hotel & Casino in Atlantic City, New Jersey, in 2011 and an Isle of Capri property in Bixoli the following year and spending $300 million upgrading and rebranding them. He has growth plans, though he wouldn't share them. "Obviously," he said, "we're building a big gaming company."